When I was in college, we were taught to select proper marketing medium after we have settled on a Big Idea. A Big Idea is a seed idea that sets tone and manner, general branding direction and marketing strategy. For example, Oreo has decided to go with the marketing strategy of "Wonder if I, share an oreo…".
They then created several campaigns including animated commercials and live action music videos, featuring multiple national singers singing together that perfectly illustrated the idea of "sharing". Not all ideas should be in the form of video. Some are better as offline media campaign such as Nike motivating people who don't do sports by introducing Nike Fuel Band integrated with Nike App.
However, where I come from is a place full of layman business clients a.k.a the Asian boss, where medium often comes before the idea. This post is to help all of you Asian marketers out there who are running out of ideas when your boss calls you up and say:
"Hey why we never have any video, we need a video! "
Okay? What kind of video do you mean?
" I don't know, something creative but not so creative, you figure it out…"
It was Monday.
1. Viral video
Viral is not something that we can control, there are tons of articles out there analyzing various case studies such as the ice bucket challenge, providing you the ultimate guide to creating viral videos. In my view, to create something people actually care about, try producing videos targeting social awareness or organizing guerrilla campaigns.
Social awareness videos are videos like the ice bucket challenge. Some brands also film how consumers can help homeless people or endangered animal species each time they purchase a specific product. Guerrilla campaigns on the other hand, are ad campaigns performed in unconventional ways. For instance, during the premier of the movie Devil's Due, an animatronic "devil baby" in a remote controlled stroller goes on a rampage through the streets of New York City and hidden cameras were recording people's reactions.. You'd never expect a video of people being frightened can gain that much traction and this has brought the movie proper awareness.
2. Youtube Ads
Youtube ads marketing is a thing now. Although most people used to skip ads, Youtube ads system is getting smarter in matching target audience: I recently downloaded a ukulele app discovered from Youtube ads because it was free and relevant during my search for ukulele tutorial.
Creating Youtube ads has a simple rule of thumb, the first 5 seconds must catch the audience's attention, often by voice over. Studies show that 46% of people use Youtube as music player after Spotify, meaning they are most likely to "listen" to videos instead of watching them. The remaining length of the ads video can then be plain feature introduction.
3. Event backdrop
This is a simple one yet effective. Pick an event related or complementary to your client's business nature and display whatever ads you have on the backdrop LED panel!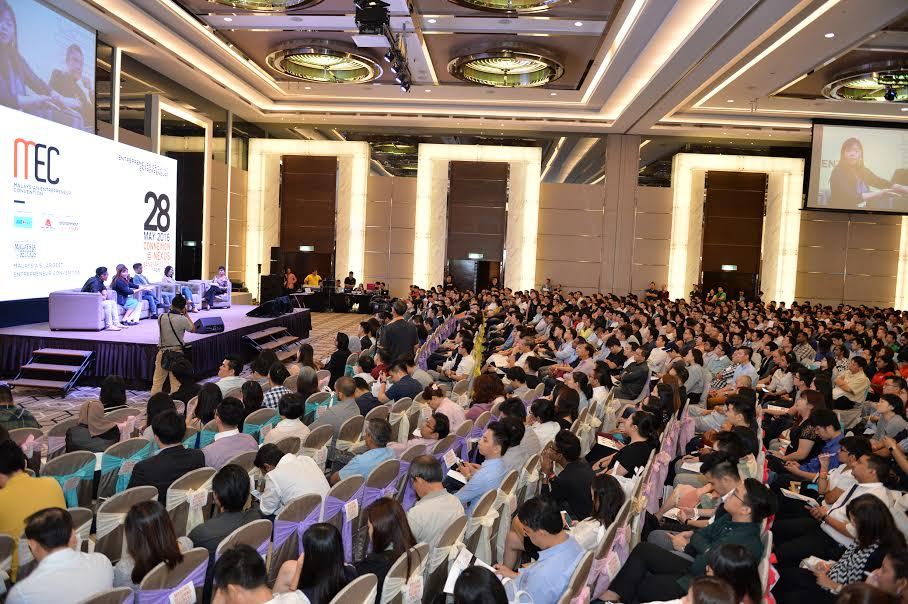 4. Youtubers Collaboration
Sometimes, we don't even have to produce a video by ourself. Engage any youtuber that clients adore their video style or creativity, and collaborate with them to create organic ads (ads that are not hard sell).
Their popularity is also our add-on benefit as consumers these days no longer trust the same-o-ads. Instead, they seek for endorsement, testimonial from people they follow. Admit it, boosted board is famous because Casey Neistat rides it.
5. Infographics
Creating info-graphical videos can be useful to educate your consumers on how to properly use your product, or how your shoes fix their spinal alignment, what are the statistics on wearing contact lens, so on and so on.
Make it fun, uplifting yet informative.
6. Behind the scenes
Shoot your office, make some vlog on your company culture. Show them how you produce your awesome product, show them how you work overnight to throw an exhibition, show them how you get business inspiration while shopping in the night market of Bangkok.
With the rise in Snapchat and Facebook live users, publishing behind the scenes videos has never been so easy.
Consumers wanna know you, they wanna interact with you, they wanna know how it works, how the pizza they ate was flipped, how the album they bought was recorded. They wanna feel involved.
7. How-to videos
Unlike infographics videos, how-to videos often help users solve certain issues before they discover your product. Videocopilot made a bunch of free useful tutorials. I believe the after effect of this is that beginners have been inspired so much from them even though their income are mainly generated from the plugins, videos assets and sounds effects that they've sold.
A simple video like 'How to clean your lens properly' can bring in much more traffic to your online camera store or 'How to effectively eliminate cockroaches' can boost users' confidence on the professionalism of your pest control company.

8. Web series
Start a web series, make a short film. 7-11 in Taiwan made brilliant touching short film series with the title of "The 7 Things I Learnt from Being Single" (translated from Chinese of course). Sometimes, simple touching stories can lead people to know your brand. Petronas in Malaysia always shoot a short film for Chinese New Year and most of them are going-home related. Shoot a story that touches people's heart, makes the audience think "Ah, I feel that too, I gotta share this". The campaign from Petronas is a rather successful example as people now anticipates their short film every Chinese New Year.

And that is it! Hope you gained some inspiration from this article and definitely hope it gets you out of your Monday death pit! Cheers